PROVIDER SUCCESS STORY
Cathy Morcom, MPT
WorkWell Has Been a Great Resource
Provider Profile
WQP:

Cathy Morcom,

MPT

Black Hills Physical Therapy (BHPT) is a locally owned and operated practice in Spearfish, South Dakota. BHPT was established by Cathy Sulentic-Morcom, MPT, in 1995 and has been a WorkWell Quality Provider (WQP) of FCE and FJA since April of 1998. They also provide PWS services for WorkWell employers.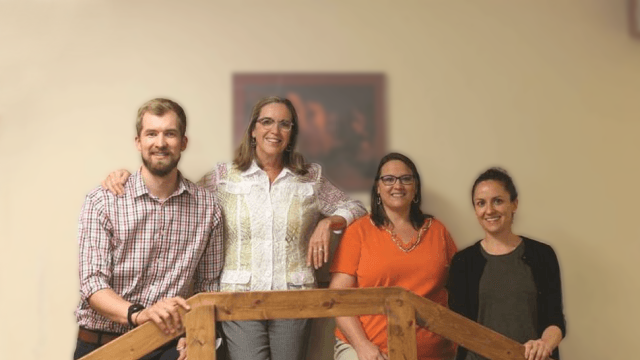 "WorkWell has been a great resource for clinical support, work injury programs, educational materials, equipment vendors, and any other needs I have had. The support from WorkWell is tremendous and I have always felt that I am a part of a great team, a reputable company, and a group of dedicated professionals."
Cathy states that a number of years ago, she became frustrated with the fact that "light duty" meant different things to different employers, injured employees, physicians, and insurance claims managers. In her effort to understand how to define and recommend "light duty", she began to evaluate a variety of industrial rehabilitation programs to find answers. Cathy chose WorkWell (WW) programs and says, "I have remained very satisfied with my choice of WorkWell. Internally, this program has helped me to incorporate objective treatment and testing approaches with all clients. WorkWell is more comprehensive [than other programs investigated] and I particularly appreciate that there is a continuum of care from acute injury through successful return to work . Focus on learning early the functional requirements of a client's job, understanding the mechanism of injury, comparing the client's abilities with the job requirements, and developing a rehab program to fill the gaps are all important aspects of WW programs. This process includes educating the client, evaluating his/her work and worksite, and communicating with employers, physicians, case managers, attorneys, vocational rehab professionals, and any other professionals involved. Cathy has trained her PT colleagues at BHPT to initiate this approach very early in the treatment of all clients.
The PTs at BHPT also educate referral sources on WWs comprehensive approach to work injury management from early intervention/prevention to successful return to work. "I do a variety of business presentations on work place safety, employee education, onsite exercise programs, successful
return-to-work rehab, and ergonomic intervention, explains Cathy. I also provide annual work safety and ergonomics education presentations for city and county employees. BHPT recently developed a business relationship with the South Dakota Science and Laboratory Authority for onsite and offsite injury prevention, treatment intervention , job analysis, and work place safety . Additional employers with whom Cathy works include an area gold mining company, a computer call center, and several factories.
Cathy has had a number of referrals come to BHPT for work injury management services from sources that found them through the WQP network and WW . She also advertises directly to BHPT's other referral sources including area businesses, local newspaper, and employer clients. Most of BHPT's FCE and work injury referrals come from Work Comp case managers and physicians. "We do, on occasion, get referrals from attorneys or employers who want clear, objective return-to-work information or assistance with job modifications that will improve worker safety."
"Many of our referral sources have spoken highly of WorkWell and some have contacted me because of WW's reputation. The businesses that utilize our services have commented on their annual reductions in injuries. Many of these businesses have reported a 30-50% reduction in injury rates. Employees have commented on how helpful the safety education they have received has been in regards to performing their jobs. They also tell us they apply these principles to their everyday lives."
Cathy says, "WorkWell has been a great resource for clinical support, work injury programs, educational materials, equipment vendors, and any other needs I have had. The support from WorkWell is tremendous and I have always felt that I am a part of a great team, a reputable company, and a group of dedicated professionals."