PROVIDER SUCCESS STORY
Robin Peterson, PT, CEAS
RHRI Uses WorkWell Programs Both Internally and Externally
Provider Profile
WQP: Robin Peterson, PT, CEAS
Robin Peterson, PT, CEAS, has been a WorkWell Quality Provider for 21 years, the last 6 years at Regions Hospital Rehabilitation Institute (RHRI) in Woodbury, MN. She was trained in and has used WorkWell's (WW) full suite of work injury prevention and management programs including Functional Capacity Evaluation (FCE), Work Rehabilitation (WR), Functional Job Analysis (FJA) and PreWork Screening (PWS) during this time. Regions Hospital has two out-patient facilities that provide FCEs: Woodbury and Minneapolis. All 6 PTs at the Woodbury location have been trained in FCE. At the Riverside location, 2 PTs and 1 OT are trained in FCE.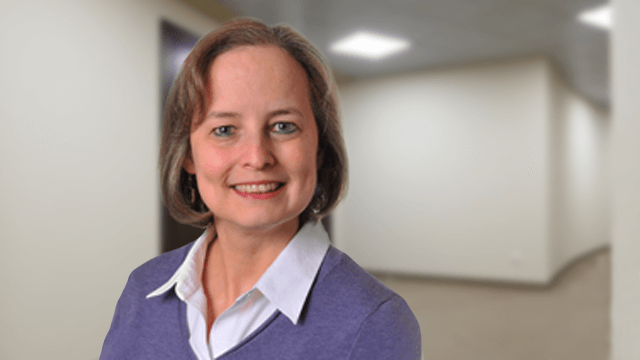 "We do believe that the stretching program has had a tremendous impact on the number and severity of the sprain and strain injuries."
RHRI uses WW programs both internally and externally. Internally, both the Riverside and Woodbury locations provide daily work conditioning and FCEs. They perform a wide variety of FCEs due to being a part of Regions Hospital, one of the largest trauma centers in the state. Because of this, they perform numerous FCEs for workers who have suffered traumatic injuries including crushing injuries and amputations, along with post-op and strains. They also have had an increase in co-morbidities that include musculoskeletal injuries along with traumatic brain injury diagnoses (TBI). Externally at the Riverside location, they team with Health Partners Occupational Medicine to provide prework screen testing for a number of companies in the Minneapolis MN area. The Woodbury location has seen a significant increase in demand for the creation of functional job descriptions and pre work screens for different departments within the State of MN. Ergonomic assessments are also performed for Regions Hospital, Health Partners, Ramsey County, and various hotel organizations.
RHRI markets the WW programs in a variety of ways including speaking at conferences, attending conferences as exhibitors and participants, and developing various marketing tools including print brochures and a website. Some of the companies they have teamed with include API Construction Group, State of MN, Ramsey County, Washington County, various School Districts, and various hotel organizations. The Safety Manager for API Group, which received injury prevention training and instructions in a stretching program stated, "We do believe that the stretching program has had a tremendous impact on the number and severity of the sprain and strain injuries. The other benefits that we have noted are that the employees are more awake and energized as they start and finish the day, chronic aches and pains have diminished, and it fosters camaraderie among the crew because they are doing it together."
WorkWell's FJA is the foundation for the ergonomic training programs RHRI has developed as well as PWS.
Referrals to RHRI come from a variety of sources. Internally they receive referrals from Occupational Medicine MDs, Neurosurgeons, Orthopedic surgeons, Family MDs, PM&R, Qualified Rehabilitation Counselors(QRCs), and case managers. External referrals come from previous professional relationships and teaming with businesses. Word of mouth and endorsements from individuals and companies have been valuable in expanding the RHRI occupational health physical and occupational therapy program.
WW training has helped Robin and other RHRI therapists meet the current demand that all phases of patient care and treatment documentation focus on function. This focus on functional abilities is especially important when working with injured workers. Robin explains, "Beginning at the time of the initial evaluation for an acute injury, WW taught us to discuss physical work demands, discuss functional goals that are work-related, and to develop treatment and exercise programs based on those work demands. Early intervention is critical for injured workers. Having extensive experience asking and talking to workers about the physical demands of their jobs has created an entirely new vocabulary, skill set, and "link" with the injured workers we see. This has been one of the greatest benefits of being a WW provider."
Congratulations to Robin Peterson and the Regions Hospital Rehabilitation Institute team for their outstanding work and contributions to the health and well being of their community!